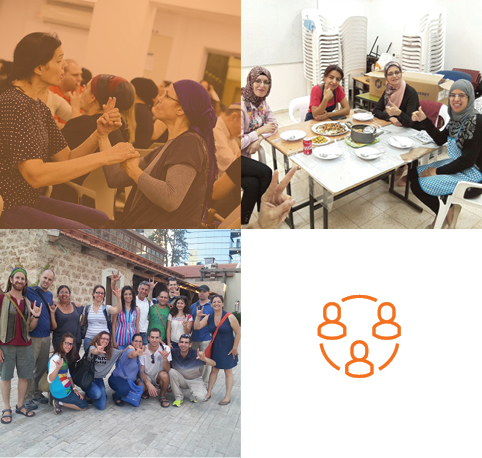 Social Recreational Club
The Center's Social-Recreational Club provides weekly social programming in a warm, friendly atmosphere for deaf-blind adults ranging in age from 40 to 80, who come from locations across the country. Interpreters are provided for all participants: an interpreter translates into sign language for deaf participants who have some vision, while one-on-one tactile sign language is available for those who are completely deaf-blind.
Support Groups for Young Adults with Usher Syndrome
 A group of 15 adults aged 30-50, has been meeting every month at our Center. Twice a year, they enjoy and all day outing filled with various activities.
The meetings provide emotional rehabilitation, support and information on related topics such as accessing rights, technological innovations and success stories.
As members of this group grow older, their needs change. For example, thanks to the group they are more comfortable with their Usher Syndrome while physically, their vision continues to deteriorate.
Empowerment Group for Deaf-Blind Woman in the Arab Sector
This program provides weekly meetings for deaf-blind woman in the Ararara Community Center in the triangle (Northern Israel)
The Center for Deaf-Blind Persons
The Center for Deaf-Blind Persons is Israel's first and only center that provides specifically tailored services and programs to meet the needs of  people who have the dual disability of deaf-blindness. The leading cause in Israel is Usher Syndrome, which is a genetic condition involving both hearing loss (from birth) and the progressive loss of vision throughout life.