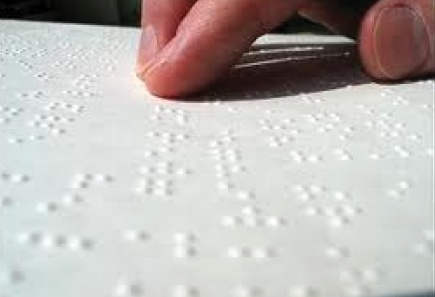 Braille is a tactile writing system used by people who are visually impaired. It is traditionally written with embossed paper. Braille users can read computer screens and other electronic supports using refreshable braille displays. They can write braille with the original slate and stylus or type it on a braille writer, such as a portable braille notetaker or computer that prints with a braille embosser.
Braille can help deaf-blind people access information in books and magazines, although it is not intended for use in one on one conversation.  Some deaf-blind people do chose to use braille as a method to communicate with others. 
https://en.wikipedia.org/wiki/Braille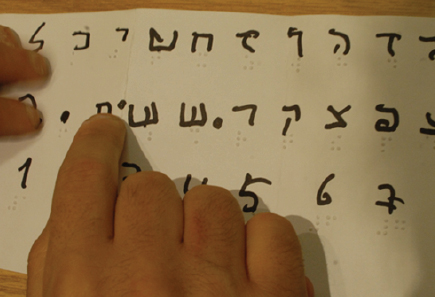 ברייל על נייר:
לוח אותיות עבריות ואותיות ברייל. האדם המדבר מחזיק בכף ידו של האדם החרש-עיוור, מעביר את אצבעו של זה על אותיות הברייל ומאיית את אשר הוא רוצה לומר, כך שהאדם החרש-עיוור יוכל לחוש באמצעות מישוש את הנאמר לו. האדם המאיית לא צריך לדעת כתב ברייל כדי להשתמש בשיטה זו. בשיטה זו משתמשים מעט מאוד אנשים חרשים-עיוורים.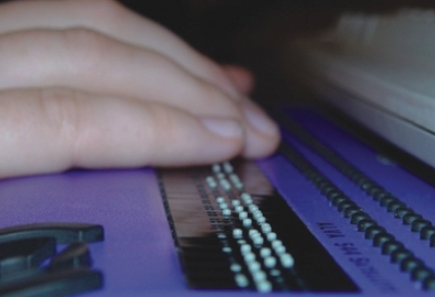 צג ברייל:
צג ברייל – צג לסימני ברייל מיוחדים שהסימנים מופיעים עליהם כתבליט. באמצעות צג ברייל ניתנת נגישות לכל שירותי המחשב והאינטרנט.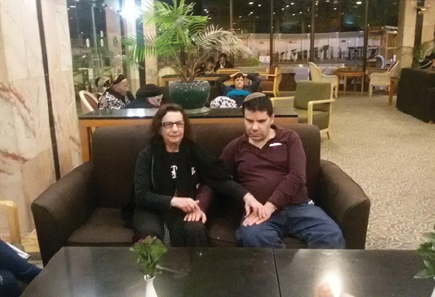 "תקתוק" ברייל עם האצבעות:
שימוש באצבעות כאילו שהן מקשים של מכונת ברייל. מקישים על אצבעות האדם החרש-עיוור את אותיות הברייל לפי מיקומם במכונת ברייל. אפשר ל"תקתק" על הברך באותה צורה. לשימוש בשיטה זו צריכים שני האנשים התקשרים אחד עם השני לדעת כתב ברייל. בשיטה זו משתמשים מעט אנשים חרשים-עיוורים.
שפת סימנים
שפת סימנים היא שפה בה משתמשים בסימנים מוסכמים על מנת...
קריאת שפתיים
קריאת שפתיים ודיבור היא שיטת תקשורת בה מבינים את הנאמר ע"י...
תדומה
קריאה במגע של השינויים במיתרי הקול כאשר אדם מדבר. האדם...
כתיבת אותיות
בשיטה זו מציירים את האותיות על כף ידו של האדם...
שיטת לורם
בשיטת תקשורת זו כל אות מיוצגת ע"י אחד מפרקי האצבעות...
איות אצבעות
שיטה בה האדם החרש-עיוור מניח את כף ידו על כף היד...