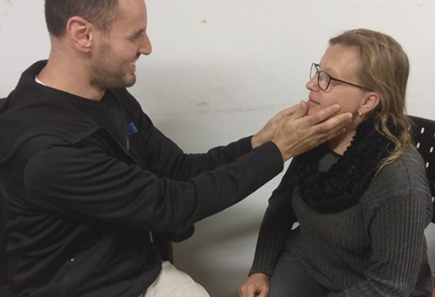 Tadoma, known also as tacticle lipreading, is a communication method for deaf-blind people where the deaf-blind person puts their hands on the speakers jaw, bottom lip or neck in order to feel the  vibrations. The three middle fingers are usually on the speaker's cheeks while the little finger is used to pick up the vibrations in the speaker's throat. In this way the deaf-blind person can feel both the movement of the lips as well as the vibrations in the vocal chords. It's also useful to feel the puffing of the cheeks and warm air which is produced by nasal sounds when saying letters such as N and M. Tadoma is a difficult method to learn and is not commonly used. However some deaf-blind people can successfully use Tadoma to maintain speech skills they had before becoming deaf.
שפת סימנים
שפת סימנים היא שפה בה משתמשים בסימנים מוסכמים על מנת...
קריאת שפתיים
קריאת שפתיים ודיבור היא שיטת תקשורת בה מבינים את הנאמר ע"י...
כתב ברייל
הברייל הוא שיטת תקשורת כתובה המשמשת להעברת מידע וכאמצעי...
כתיבת אותיות
בשיטה זו מציירים את האותיות על כף ידו של האדם...
שיטת לורם
בשיטת תקשורת זו כל אות מיוצגת ע"י אחד מפרקי האצבעות...
איות אצבעות
שיטה בה האדם החרש-עיוור מניח את כף ידו על כף היד...