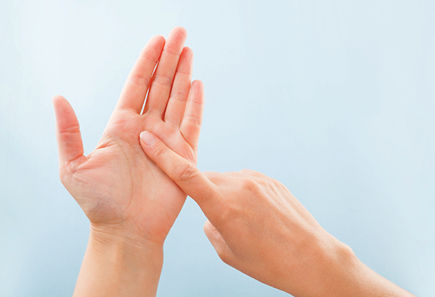 In this method, the letters are written on the hand of the deaf-blind person so s/he can "read" what is being written on the hand. Although learning print on palm requires very little training, it isn't as fast and is less popular than other signing methods due to the limited speed at which information can be imparted.
שפת סימנים
שפת סימנים היא שפה בה משתמשים בסימנים מוסכמים על מנת...
קריאת שפתיים
קריאת שפתיים ודיבור היא שיטת תקשורת בה מבינים את הנאמר ע"י...
תדומה
קריאה במגע של השינויים במיתרי הקול כאשר אדם מדבר. האדם...
כתב ברייל
הברייל הוא שיטת תקשורת כתובה המשמשת להעברת מידע וכאמצעי...
שיטת לורם
בשיטת תקשורת זו כל אות מיוצגת ע"י אחד מפרקי האצבעות...
איות אצבעות
שיטה בה האדם החרש-עיוור מניח את כף ידו על כף היד...