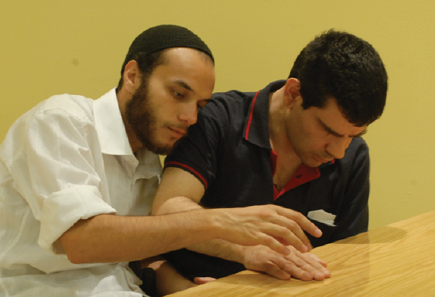 At the heart of the system is a thin cotton glove or a diagram of the hand with the position of each letter or symbol marked for the convenience of the sighted person who wishes to communicate with this system. Every word is spelled out letter by letter, by touching the appropriate points on the hand. The deaf-blind person must memorize the diagram of letters in order to decode what is being said and to be able to respond or initiate a conversation. This type of tactile communication also requires knowledge of the written form of spoken language. Practically speaking, it functions as a "code" for spoken and written language. 
שפת סימנים
שפת סימנים היא שפה בה משתמשים בסימנים מוסכמים על מנת...
קריאת שפתיים
קריאת שפתיים ודיבור היא שיטת תקשורת בה מבינים את הנאמר ע"י...
תדומה
קריאה במגע של השינויים במיתרי הקול כאשר אדם מדבר. האדם...
כתב ברייל
הברייל הוא שיטת תקשורת כתובה המשמשת להעברת מידע וכאמצעי...
כתיבת אותיות
בשיטה זו מציירים את האותיות על כף ידו של האדם...
איות אצבעות
שיטה בה האדם החרש-עיוור מניח את כף ידו על כף היד...