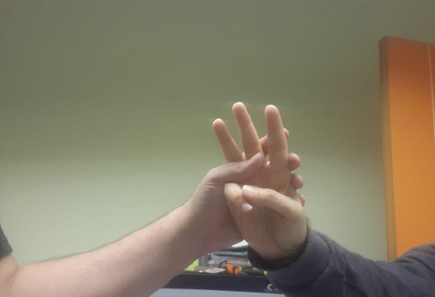 Tactile fingerspelling is a manual form of the alphabet in which words are spelled out where the deaf-blind person places a hand over that of the signer. Fingerspelling (or dactylology) is the representation of the letters of a writing system, and sometimes numeral systems, using only the hands.
שפת סימנים
שפת סימנים היא שפה בה משתמשים בסימנים מוסכמים על מנת...
קריאת שפתיים
קריאת שפתיים ודיבור היא שיטת תקשורת בה מבינים את הנאמר ע"י...
תדומה
קריאה במגע של השינויים במיתרי הקול כאשר אדם מדבר. האדם...
כתב ברייל
הברייל הוא שיטת תקשורת כתובה המשמשת להעברת מידע וכאמצעי...
כתיבת אותיות
בשיטה זו מציירים את האותיות על כף ידו של האדם...
שיטת לורם
בשיטת תקשורת זו כל אות מיוצגת ע"י אחד מפרקי האצבעות...