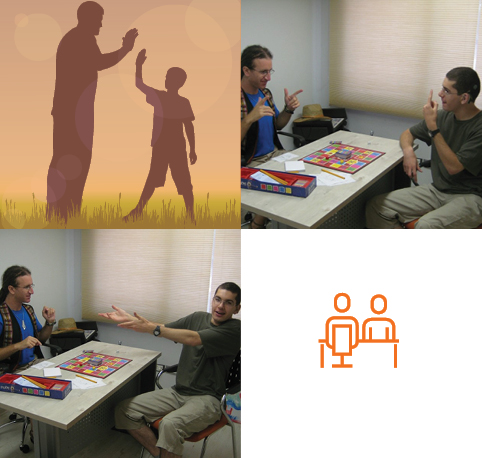 For children growing up with Usher Syndrome, early intervention is essential for developing the self-esteem and confidence that are critical to becoming functional, independent adults. Young adults who have been in similar situations serve as an unparalleled source of guidance, knowledge, inspiration and reassurance for these children. They also help the children allay unrealistic fears and depression about their progressive blindness. This is especially important because as most children with Usher Syndrome still have their sight, they study at schools with other deaf and hard of hearing children and do not have access to role models with deaf-blindness.
This is Israel's only role model program for children with Usher Syndrome. The specially-trained mentors have an open and accepting attitude toward their deaf-blindness. In a series of weekly, structured meetings, they teach the children "insider" ways of coping with their progressive blindness, imparting skills and information that make them feel good about themselves and help maximize the rehabilitation process.
The Center for Deaf-Blind Persons
The Center for Deaf-Blind Persons is Israel's first and only center that provides specifically tailored services and programs to meet the needs of  people who have the dual disability of deaf-blindness. The leading cause in Israel is Usher Syndrome, which is a genetic condition involving both hearing loss (from birth) and the progressive loss of vision throughout life.